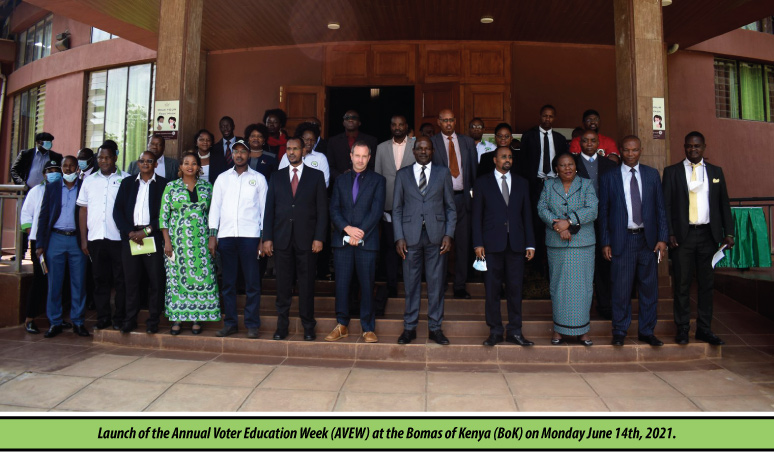 The Commission launched the Annual Voter Education Week (AVEW) across all the 47 Counties and 290 constituencies countrywide on Monday, 14th June, 2021. The national launch was held at the Bomas of Kenya (BoK) with attendees expressing their satisfaction with the activity. The week-long event commenced on 14th June and will end on 20th June 2021. The event will provide the Commission an opportunity to listen and address concerns from the members of the public on all electoral issues.
During his address, The IEBC Chairman Wafula Chebukati asked Kenyans to take advantage of the week to learn more about Commission programmes. The Chair asked all stakeholders to play their part in ensuring free fair and transparent elections.
At the County Level, County Elections Managers (CEMs) customized their launches to appeal to the local population and fit the environment in their respective Counties. They undertook various activities including tree planting, town hall meetings, school visits, face to face conversations while undertaking voter registration all these in strict compliance with COVID 19 containment measures set by Ministry of Health.
The theme of this year's AVEW is "Inclusive Engagement and Education for a Stronger Democracy."
"The Commission has now turned its focus towards the 2022 General Election, the boundaries review and any other electoral activity that may arise during the intervening period." Said Chebukati concluding that the AVEW activities will be undertaken with strict compliance to the Ministry of Health (MoH) and Commission's COVID-19 protocols.