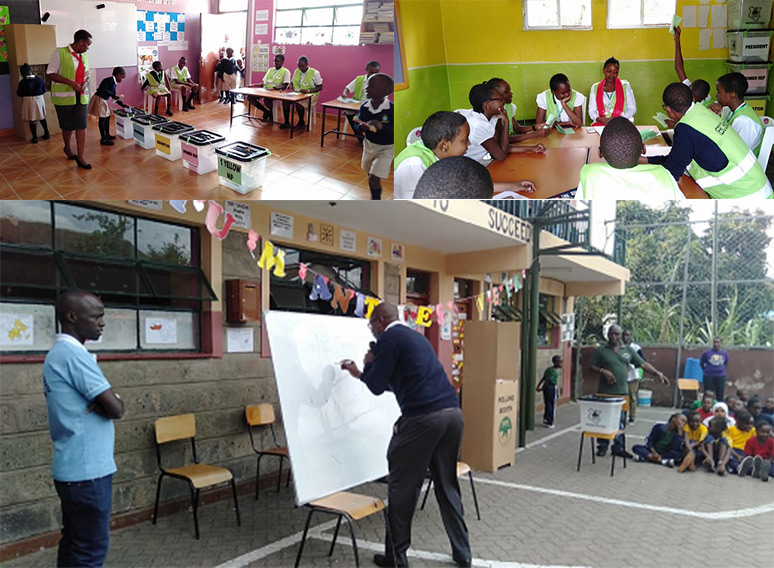 Sunrise School has set aside a week in its annual academic calendar, known as Humanities Week, during that period the school endeavors to establish civic education and citizenship in its curriculum. The event whose climax is a students' council election, aims at creating awareness on student's rights and responsibilities in democratic processes while helping them grow into responsible citizens by giving them first-hand experience on what they learn in class and what they get examined on.
IEBC through its Embakasi East office assisted in the preparation of the school's election that were held on voting on Friday 24th May, 2019. The Commission was invited to ensure that the process was conducted in a free, fair and credible manner. Preparations for the elections included designing of ballot papers, campaigns and voter education session with students, teachers and the school's administration.
A total of 26 elective positions were up for grabs in the election: 1 President, 3 Governors, 3 Senators, 3 Woman Representatives and 16 MPs. The election officials were drawn from the school administration and the students.
The Commission provided direction, supervision and observed the polling process. Elected candidates formed the Student Cabinet for a one-year term. The Cabinet was responsible for addressing issues on education, environment and improving the quality of life of their fellow students. The students showed great interest in the electoral process and came out in large numbers to show support to their favorite candidates during campaigns. They were also quick to learn how to mark a ballot paper that goes to show the benefits of voter education conducted to the students. Moreover, the experience gained by the students from participating in an election is invaluable and will help them understand how elections are conducted in Kenya.
The election took place in an orderly manner, and the school administration termed the exercise as free, fair and transparent. The election was held on Friday 24th May, 2019.