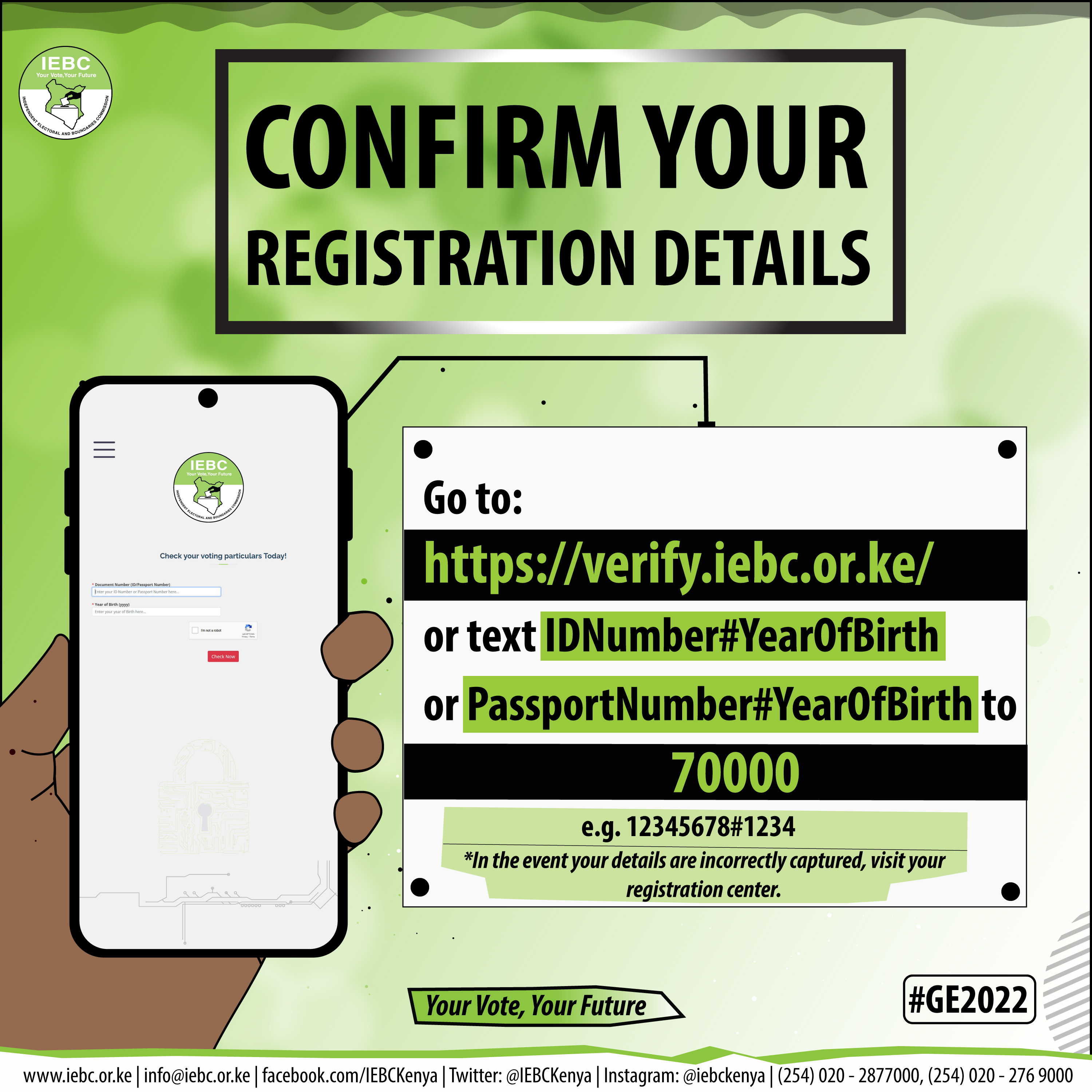 The Commission suspended the application for new registration and change in registration of voters in Kenya and for Kenyan citizens living outside the country to pave way for the verification of the register of voters. The suspension of registration and change of particulars was effected from 4 May 2022 to 13 March 2023.
"This suspension is to enable availability of the register of voters to the public for purposes of verification of biometric data and particulars of registered voters in accordance with sections 6A of the Elections Act, 2011," said IEBC Chairman, Wafula Chebukati.
The electronic voter verification exercise is being done across the country and in 12 foreign countries: Canada, UAE, United Kingdom, USA, Qatar, South Africa, Germany, Rwanda, Burundi, Uganda, Tanzania and South Sudan from 4 May 2022 to 2 June 2022.
Registered voters should visit their registration centers or IEBC office in their constituency with the original ID or valid passport that they used to register as a voter. In the event one's details are incorrectly captured, they should visit their registration center.
"The Register of Voters may be verified at the registration centers published in a Special Issue of the Kenya Gazette Notice No. 10442 carried in Vol. CXXIII–No. 203, on 1 October, 2021 and Gazette Notices No. 194, 195 and 196 carried in Vol. CXXIV–No. 7 and published on the 14 January, 2022," said the IEBC Chairman.
A person who duly applied to be registered and his or her name or biometric data has not been captured correctly in the register of voters may make a claim to the Registration Officer within the period prescribed for verification. The claim must be made in the prescribed form.
Registered voters can also check details of their registration by sending IDNumber#YearofBirth or PassportNumber#YearofBirth to SMS to 70000 or through the portal https://verify.iebc.or.ke/.