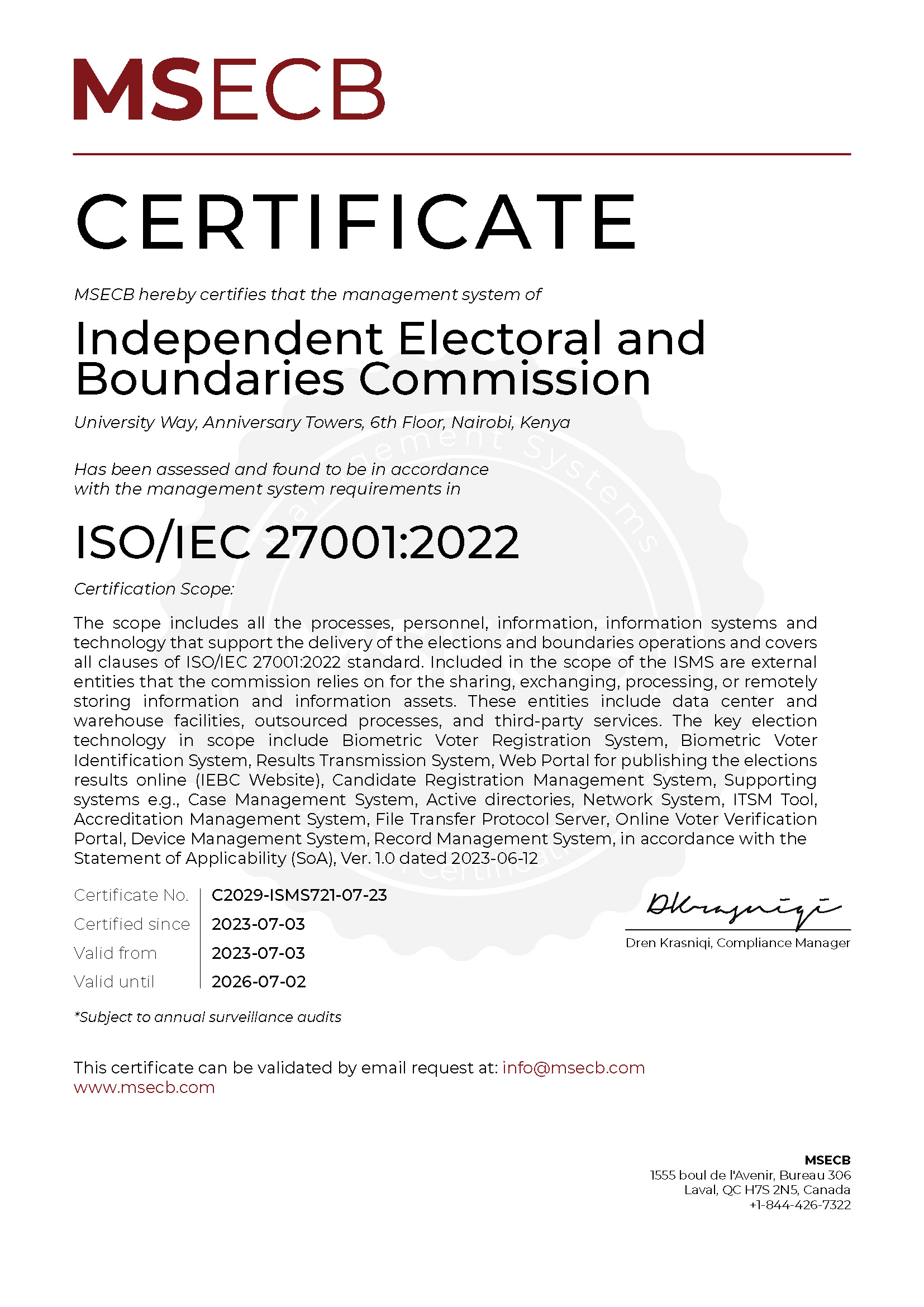 The Commission is International Organization for Standardization (ISO) 27001: 2022 certified. This is a seal of approval that IEBC runs its activities within specified international standards developed and published by ISO.
"It is with great pleasure that we congratulate Independent Electoral and Boundaries Commission on attaining the MSECB Management System Certificate. This signifies that IEBC has been assessed and found to be in accordance with the management system requirements in ISO/IEC 27001:2013. IEBC has officially achieved ISO 27001: 2022 certification!" said Dren Krasniqi Senior Compliance Manager at MSECB Management System.
ISO 27001:2022 is an internationally recognized standard that demonstrates IEBC's dedication to maintain the utmost security, confidentiality and integrity of the information assets it manages. "As a Commission, we hold sensitive information that must be protected to ensure the safety and security of citizen and our country," observed Marjan H. Marjan, Commission Secretary/CEO.
The Manager, Security and Business Continuity, Hildah Kavonga, said "The certification not only reflects our efforts in safeguarding sensitive data, but also highlights our commitment to continuous improvement and adherence to best practices in information security management."
The certification means the Commission has:
Enhanced Security: It reflects our unwavering dedication to maintaining robust information security practices, providing an extra layer of assurance to both our internal teams and valued clients.
b. Risk Management: By adhering to ISO 27001:2022 standards, we have implemented a comprehensive risk management framework, identifying and mitigating potential security threats to protect our business processes and data.
c. Client Confidence: Our ISO 27001:2022 certification underscores our pledge to safeguard client data and maintain their trust in our services.
d. Continuous Improvement: This achievement is not an endpoint but a milestone in our journey towards continuous improvement. We will consistently monitor and enhance our security practices to stay aligned with the evolving threat landscape. Further, we will continuously work towards ensuring yearly re-certification.
The Commission expresses its gratitude to staff who contributed to this remarkable accomplishment. Their dedication, hard work, and attention to detail have been instrumental in achieving ISO 27001:2022 certification.
Moving forward, the Commission will continue to prioritize information security, update processes, and collaborate across teams to ensure that the principles of ISO 27001:2022 remain ingrained in the organizational culture.
Please join us in celebrating this milestone that reinforces our commitment to excellence and security.