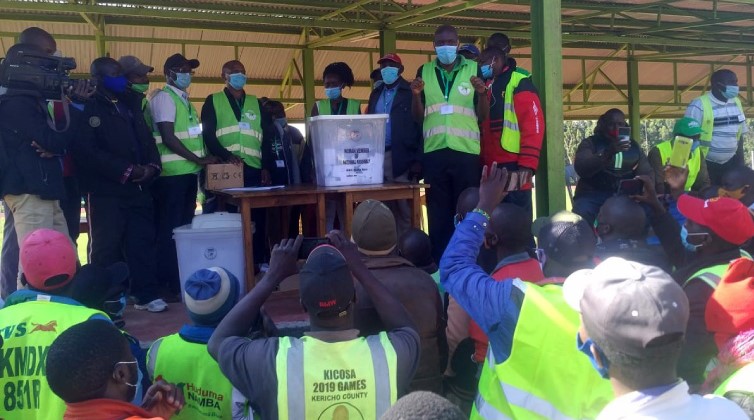 On Wednesday November 18th, 2020, IEBC Ainamoi Constituency Office was invited to conduct Ainamoi Sub-County BodaBoda Chairperson election, their first ever ballot election. The election was conducted at the Kericho Green Stadium, Kericho County, Ainamoi Constituency. The sub-County BodaBoda society has over 2000 members registered with the society.
The election was conducted in- line with the IEBC's Corporate Social Responsibility (CSR) initiative to foster a culture of democracy and good governance in the sub County's BodaBoda sector. The election was conducted strictly in adherence to Covid-19 IEBC protocols, whereby there were hand washing points, sanitization and social distancing. The biggest challenge in observing the protocols was crowd control to ensure 1.5-meter distance was not possible due to the excitement to vote their representative, therefore in the upcoming by-elections the Commission should innovate a way of achieving social distance. The county assembly ward representatives oversaw registration of members and monitored the campaigns and election. Being their first ever secret ballot, the IEBC Ainamoi office in collaboration with the ward representatives designed a ballot used by the candidates during the election.
Preparations for the election commenced with members' registrations and voter education sessions. The session provided an opportunity to demonstrate the voting procedure, roles of officials and how to mark the ballot. Roles were designated as follows: The BodaBoda ward representatives were the observers, candidates' agents were selected by the candidates themselves; two per candidate, while the role of the Presiding Officer and the Deputy Presiding Officer were played by Ainamoi CEC and CAA respectively.
The elections were conducted in a smooth and orderly manner which resulted in a free, fair and credible election that was accepted by the agents and BodaBoda registered members. IEBC support was highly appreciated.