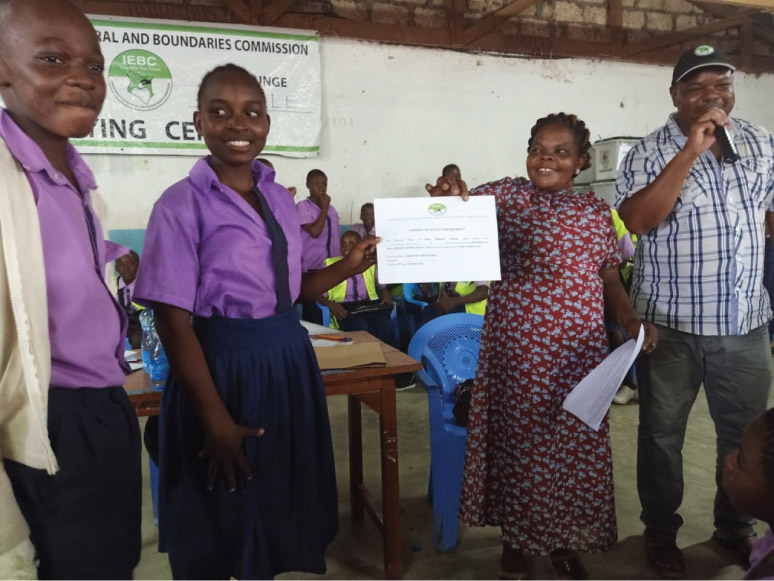 The Commission is dedicated to its call to educate school going children on the significance of democracy as part of its Corporate Social Responsibility (CSR). IEBC Constituency office in Galole undertook the task of conducting student council elections for Hola primary School.Hola Primary school is a mixed day public school located near Hola town in Chewani Ward, Galole Constituency, Tana River County.
IEBC Teamin Galole started off by conducting voter education for the electorate and the to be poll officials who comprised of teachers and the school's administration, in order to equip them with the necessary skills for the conduct the student's elections. The Team also supervised candidates' campaigns to ensure fairly allocation of campaign time as well as use of acceptable campaign strategies by the candidates.
The Team graciously provided Logistical support to the school by printing ballot papers and certificates and also providing ballot boxes.The elections had 10 elective positions. These were: President/Deputy president; Speaker/Deputy Speaker; Senator (Pre-Primary, Grade 3 & 4 and Standard 6 to 8); Member of Parliament for each class, CS education; CS ICT & External Relations; CS Environment, Health & Sanitation; CS Welfare & Special Needs; CS Sports & Culture; and CS Justice & Cohesion.
The elections were conducted in a smooth manner with no incident. The school's administration was grateful to the Commission for the help accorded to the school in the conduct of the elections and the voter education session conducted to add to their knowledge on elections in Kenya.
IEBC was represented by Abdallah Chikophe, CEC Galole who also presented the winners with certificates.
"Children are the living messages we send to a time we will not see" - John F. Kennedy